UC ROY has established since 2006 starting from water treatment chemicals business. After a decade, we have grown and expanded new businesses which related to our industrial customer bases.
Nowaday, we have 2 different core businesses as water treatment chemicals and building automation products.
1. Water Treatment Chemicals

By co-investment with Thai water treatment chemicals leading manufacturer, we could fulfill our client needs with variety of high quality chemicals for any water treatment plants as raw water treatment and waste water treatment plants.

2. Building Automation

We have an experienced team staff to provide you the total solution to control HVAC system and any automated buildings/plants. We are the distributor of KELE, the worldwide leader of automation products, services and system total solution and others.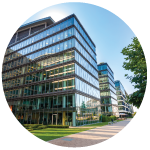 Our experienced team are pleased to giving you the easy way to control the outcome that you desired for;
• water treatment chemicals

Water quality, Treatment Cost, Accurate Delivery and Engineering Support

• building automation

Indoor Air Quality Control, Green Building Technology, Energy Saving and Other Automation Controls